Guide to your health
At McCullough's we strive to offer you the best in pharmacy services and quality health care. If you ever have any questions regarding your prescriptions, their instructions on how or when to take them or questions about your medications in general - please do not hesitate to contact our Walworth pharmacists at 262-275-2137 or our Whitewater pharmacists at 262-473-5087.
Below are helpful links for you to research drug information, natural medicine options and topics of health and disease.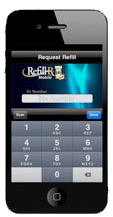 Refill on the go.
RefillRx Mobile provides a one tap
solution for refilling your prescriptions.

Download RefillRx Mobile